Makhana Taste and Versatility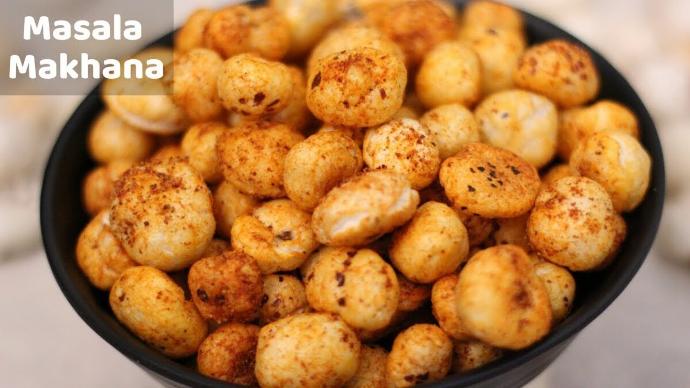 It is a popular notion that tasty food products are not healthy and vice versa. Phool makhana, the Indian super food, now popular across continents has become an everyday staple for consumers owing to its taste and health benefits both.
Phool Makhana or lotus seeds are a great source of calcium, protein, carbohydrates, phosphorous, iron, thiamine and zinc. Fox nut or phool makhana have a neutral taste. They can be sautéed, spiced and flavoured to suit ones taste. The nuts can be easily roasted and tempered with some condiments and spices. They are crunchy, soft balls loaded with fiber, making it one of the healthiest food products.
The neutral taste and flavour of this all in one super food makes it a favourite of consumers as it can be consumed in a variety of ways and flavoured as per one's liking and taste. These days makhana is the most sought after snack and has also taken a lead over pop corns as a healthier option. Makhana can be cooked in different ways, roasted, fried, flavored with different herbs etc to enhance the taste. It is interesting to know that makhana can be cooked as a savory snack and also used for sweet dishes, this is one reason it is so popular with people of different regions countries and demographics.
More than a decade ago, the consumption of this wonder nut was limited to only rural population of India and a handful of other Asian countries that it is cultivated in. It is due to the ever increasing health awareness, combined with urbanization that Makhana found its due. Makhana is one of the healthiest nuts available. It has more beneficial properties than another nuts including almonds, walnuts, pistachios etc.
Today the market and demand for makhana is growing at a very fast rate, This is due to the fact that more and more consumers are now focusing on health products and makhanas being one of the best options as it can be consumed every day and in different forms. The versatility of makhana can be gauged from the fact that it has found use in different areas.
Makhana – The powerful Food Ingredient
Loaded with fiber, protein, and minerals, phool makhana or Gorgon nuts are widely used in the Indian culinary system. This nutritious super food is used as a popular snack all over and also used for making a variety of recipes especially in the Indian cuisine. The best thing about makhana is also the fact that it can be easily stored in air-sealed containers just like other nuts for future consumption. They have a good shelf-life and do not get spoilt or rotten easily when kept in good storage conditions.
Lotus seeds are also a widely accepted powerhouse of nutrients — and form an inherent part of the Indian religious activities including traditional pooja and fasting. The lotus seeds also hold a lot of importance in religious ceremonies as they are considered auspicious. Makhana is an important ingredient for preparation of 'prasad' and 'panch amrit' in the Indian religious ceremonies and pooja. The seeds can be used to make various Indian desserts including makhana kheer, makhana barfi, which is fudge-like, panjiri -a traditional Indian and nutritional supplement made with cow ghee and dried fruits and makhana laddoos amongst others.
Makhana – Use in Alternative Medicine
Known as Qian Shi in China, Fox nut or Makhana has been used by Traditional Chinese medicine ( TCM) practitioners since decades for managing and curing a number of diseases and ailments. This natural and powerful plant and its seeds have unique therapeutic properties that have also a proven success record for treating patients with different diseases. Chinese use it as a part of medicines as it has various medicinal properties too. They use to strengthen spleen and kidneys amongst other uses.
Managing Diseases through Traditional Chinese Medicine
A number of diseases are being cured since last few decades through the traditional Chinese medicinal system. There are millions of people who believe and swear by the power and efficacy of TCM. This alternative medicinal system makes use of natural herbs and plants to manage diseases and also maintain good body health. Qian Shi or fox nut is also helpful in creating a positive balance in the body through energies.
Primary conditions or symptoms for which foxnut seeds may be prescribed by TCM practitioners.

Leukorrhea

Diarrhea

Premature Ejaculation

Urinary infections

Spermatorrhea

Vaginal Discharge
Makhana has been in use since ancient times in Ayurveda. It has a couple of properties which help in managing a number of ailments and also preventing them. This versatile super food can be used for :
Improving Digestion: In Ayurveda, it is that Makhana or lotus Seeds have a cold potency or a 'Sheeta Veerya and is thus helpful in balancing the Vata and Pitta dosha because of these properties. Having makhana regularly is advisable as stimulating the digestion as it also has a high fiber content.
Improving Sexual Health: Lotus seeds or makhana are also used in Ayurveda for improving a person's vigour and also is a natural aphrodisiac. The versatile nut assists in improving the sexual health. In Ayurveda, this is referred to as "Vrushya". Makhana is also beneficial in for promoting strength and improving immunity.
Curing Insomnia: Makhana or lotus seeds are a good source of calcium and have calming properties for reducing restlessness and insomnia (both typical vata aggravating symptoms).
Anti-Ageing: Makhana or lotus seeds have natural anti-ageing enzymes and properties, which is why they are so popular and form an inherent part of the Indian daily diet. In fact the younger generation is now moving back to age-old traditional food and techniques for maintaining their health.