Madhubani-The Makhana Hub

Today Makhana or Fox Nut is known to be a wonder not not just in India but even in International shores. Known for many health Benefits, Makhana is packed with the goodness of Calcium, Proteins, phosphorous, potassium etc. It is in the recent times that the people globally, have woken up to this super food.
Not many know that that this black diamond's origin goes back to 200 years in Bihar in a small region of Madhubani. In 18th Century, under the kingship of King Darbhanga, Makhana was cultivated in Madhubani and Darbhanga. At that time, the farmers who cultivated Makhana used to get a profit of Rs. 3 per acre. Madhubani is the Motherland of Makhana seeds and Makhana flakes. In those times, farmers used very traditional methods to cultivate Makhana in Madhubani.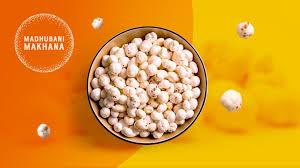 However, today, it is altogether a different story. Madhubani has become a renowned name when it comes to Makhana cultivation. Government is also backing the farmers of Madhubani to promote he cultivation of Makhana. With new initiatives like "Swarna vaidehi", Government is helping farmers with High quality yield and productivity.
As pr recent announcement, Madhubani will be honoured with the Geographical Indication (GI) tag which will give a boost to exporting of Makhana produced in Madhubani to across the world. The criteria of a region getting GI tag is that the produce has to be originated in that particular place and extensive quality tests take place before GI tag is awarded to any place. In Bihar, GI tag will be awarded only to Madhubani in spite of other districts coveting for this status.
In Madhubani, cultivation for Makhana seeds and Makhana flakes take place in clusters like Rahika, Andhratarhi, Pandaul, Khajauli, Jhanjharpur, Ladaniya, Rajnagar and Bhisphi. Madhubani contributes 40% to the total production of Makhana in the state of Bihar. 3500 MT of makhana is traded annually in Madhubani and this figure will only rise in future.
Madhubani – Climatic and Geographical Factors
Makhana is typically cultivated in tropical regions of India. Bihar has the perfect climate to cultivate Makhana in the March lands of Madhubani. climate over here is cooler and damper than that in the adjoining districts. The climate and land of Madhubani both are very suitable for cultivation of Makhana. It is also blessed with perennial rivers that offer a suitable condition for growth of Makhana. Even today, farmers mostly use the traditional methods of cultivation of Makhana in Madhubani. Makhana is grown in ponds, tanks, ditches, lakes etc.
In 1972, after the re-organisation of the districts of Bihar, Madhubani was taken out of Darbhanga district. Formerly, Madhubani was a subdivision of Darbhanga District. Nepal's hilly regions falls on the North of Madhubani and it extends to border of Darbhanga in the south. In the west of Madhubani lies Sitamarhi and Supaul lies in the east of the formerly named Mithila region i.e. Madhubani
Economical Conditions In Madhubani
Madhubani heavily depends upon Agriculture as a source of livelihood. Makhana cultivation is the major contributor to the economy of this district. Apart from Makhana, Madhubani is also engaged in Fisheries, Handloom & Handicrafts, Madhubani Paintings. It is also involved in cultivation of mangoes, sugar cane, litchi, paddy etc. Madhubani is also an important trade centre with Nepal for sugar, silk, cotton, tobacco etc.

Bihar contributes almost 90 % of world production of Makhana and in this Madhubani has a huge pie. According to an official figure, around 25000 metric tonnes of makhana are produced per year in Bihar with an annual turnover of Rs 300 crores.

With GI tag, Madhubani is exporting Makhana to rest of the world. Manufacturers are packaging and marketing Makhana cultivated in Madhubani and exporting to western countries.

Madhubani is one of the most important trade centres in Bihar for Makhana with five major wholesaler's who procure the Makhana seeds and pops from farmers. They then process them and distribute to different states through trucks and trains.

Farmers who are still engaged in traditional practices for cultivation of Makhana seeds and Makhana pops face health threats and do not have the apt infrastructure and warehouses to store their produce. Due to this, a lot of people migrate to other states for their livelihood.
Government Initiatives
Recognising the problems faced by farmers living on meagre income, Government is providing farmers with credit and technology. Researchers are working on finding ways for better farming solutions like Aquaculture that are more sustainable, environment friendly and also good for the health of farmers. It also helps in cutting on time taken in production of Makhana.

Bihar Government wants to boost the sales and exports of Makhana in a big way. This will not only help the economic status of the State of Bihar but also help in gaining employment for farmers, processors, wholesaler's, traders and retailers. There is still a lot of untapped opportunities in the cultivation of Makhana but also in countries like China, Korea, Europe and U.S.

This demand will increase exponentially in the coming years and regions like Madhubani have to be well prepared to meet up the global demands with technological advancement for better productivity of Makhana. Government has recognised the rise in demand of the wonder nut not just in India Recently, Bihar Chief Minister Nitish Kumar has directed the Government officials of the agriculture department for ensuring maximum protection of makhana, litchi and honey.

Government also understands the problems faced by farmers like limited areas for cultivation of Makhana seeds and flakes. Farmers also do not have the apt knowledge on management practices. Weed management and limited resources also pose as a threat to the Makhana cultivation.
Bihar Government is backing Makhana production with new economic packages for the state specially Madhubani. Agriculture Minister of Bihar Dr Prem Kumar said: "Bihar is excited about makhana production with the announcement of a package of Rs 10,000 crore for branding local crops. Arrangements are being made for production, branding and marketing in the cluster by forming farmers groups". This shows, Government's commitment towards ensuring Growth of cultivation, exports of Makhana to the rest of the world.