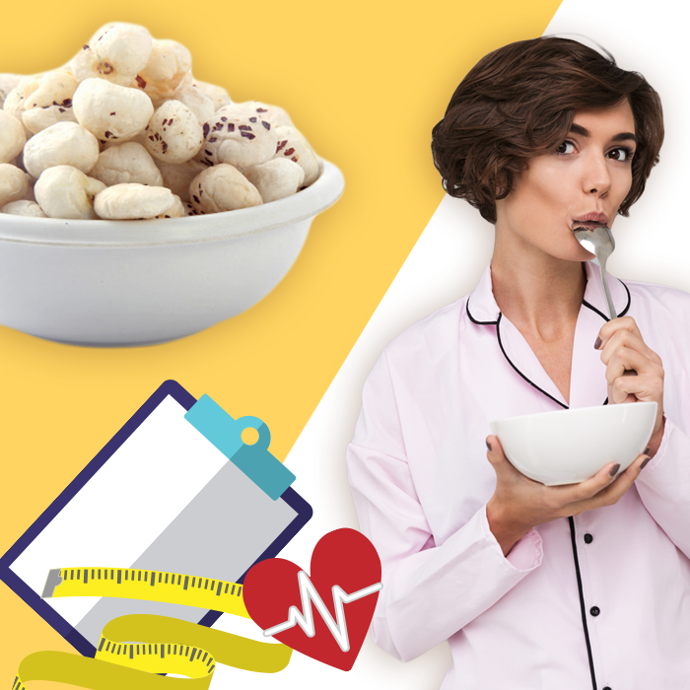 Makhana – The tasty yet Healthy Snack
Today's fast paced life specially in Urban cities has led to high consumption of unhealthy packaged snacks like namkeen, fries, potato chips etc. Working people do not have time to cook and eat proper healthy meals especially during working hours. They binge on tasty and high saturated fatty snacks that do not have any nutrition. These high fat and salty snacks lead to many health related problems like obesity, hypertension, diabetes etc. Even kids these days are eating junk food that is detrimental to health of kids and are leading to many health issues at a very young age.
Makhana or Fox nut is a perfect answer to mid-day or evening snacks. High in taste and nutrition, various forms including makhana seeds and makhana flakes have become extremely popular amongst health conscious people. Found in Tropical land of countries like India, Japan, South Korea and China, Makhana has traditionally been used in various Chinese and Ayurvedic medicines too.

Highly beneficial Snack option
Makhana has the goodness of all the vitamins and minerals. It is a perfect answer to the hunger pangs between meals. Easily available and great in taste, there has been a huge demand for Makhana for snacking. Popular amongst all age groups, Makhana is enjoyed by all members of a family. Makhana is known to have many benefits that help people in various areas:-

Makhana as a snack is consumed across globe by people who are trying to reduce weight. Generally, people tend to gorge on a lot of snacks like high sugar biscuits, wafers etc. due to high stress jobs. Ready to eat options like cup-o-noodles have become an option for people who do not want to cook food on daily basis.

Eating other unhealthy options like potato chips, wedges, high salt snacks only lead to obesity. They neither provide any nutrition nor help in reducing weight. Makhana flakes are an excellent snack for people who do not have time and intent to cook food. Regularly eating Makhana seeds and Makhana flakes during evening snacks and mid-day time help in helping reduce the waistline and reduce weight with other benefits like controlling blood pressure and sugar.

People also eat bread sandwiches, rice etc. that are less healthy as compared to Makhana. Makhana flakes and Makhana seeds contain a flavonoid called kaempferol, which has anti-ageing and anti-inflammatory properties.

A lot of people are allergic to snacks like nuts, almonds, rice puffs, Indian namkeen like gathiya, mathri etc. They are high in gluten and can be allergic in nature. Makhana puffs are gluten-free that suits all consumers. high in magnesium, which makes them suitable for heart patients. Despite being rich in carbs the GI index of these puffed white balls is lower than our regular food like bread and rice.

Makhana has low GI index that helps in keeping stomach full for longer time.Makhana flakes are preferred by many consumers as they are high in iron, magnesium and low in sodium, that help in fighting diseases like hypertension, heart strokes etc.
High demand of Makhana as the most preferred snack
With the increase in awareness of goodness of Makhana as a snack, there has been a steep rise in demand for the wonder nut. Retailers have flooded the super markets and hyper markets with different flavoured and seasoned Makhana flakes and Makhana seeds like peri-peri, bar-be-que, wasabi etc. All these flavours are available in Organic and Inorganic forms.

Retailers are distributing these health powered puffs across the globe. There is a huge demand of Makhana as a snack in countries like China, Korea, Japan. In Colombia, people eat Makhana seeds as a snack directly from local markets.

Many new manufacturers have come in the business of manufacturing Makhana seeds and Makhana flakes with growing popularity. Many manufacturers sell Makhana seeds and Makhana flakes without any flavours and directly as they buy from wholesalers.

People prefer buying natural Makhana flakes and seeds to cook at home and store them in Jar. At home, roasted Makhana is a favourite specially in Indian homes to eat at tea time. They add ghee in pan and add Makhana flakes with salt and pepper.

People who do not like roasted Makhana at home, also try out new Makhana snack recipes by adding different spices like chat masala with Olive Oil. Many people even and garlic flavoured seasoning, oregano while roasting the Makhana flakes.

Many people specially in Maharashtra and south India, add peanuts, curry leaves etc. If you do not like plain roasted makhanas, you can make flavoured makhanas at home too. All you need to do is roast them in ghee and add spices and condiments like mint leaves, curry leaves, garlic powder, coriander powder, green chillies, turmeric powder, etc. You can also add almonds, cashew or peanuts to add more crunch to this healthy snack.

Makhana seeds are also eaten as snack option as they have gluten free proteins. Many people consume Makhana seeds and Makhana puffs as a snack because they help in sleep disorders as well.

Pregnant women consumer Makhana flakes as a snack at regular interval as they help in healthy foetal development and also help pregnant women to fight gestation related diseases.

Many patients across the world suffering from life threatening diseases like strokes, high blood sugar are also advised by dieticians to consumer Makhana daily in a controlled manner. Many people grind Makhana and then add other flours like millet, bajra, jawar to cook healthy snacks that are tasty as well as healthy.
With so many benefits, Makhana is a wholesome snack for the people specially in Urban regions where lifestyle diseases are on a high. With good lifestyle choices and eating healthy snacks like Makhana, people are becoming more healthy. The increased need for Makhana flakes and Makhana seeds has led to more and more competition between retailers to manufacture best quality makhana snacks with different flavours, variety to please the tastes and preferences of people across globe.