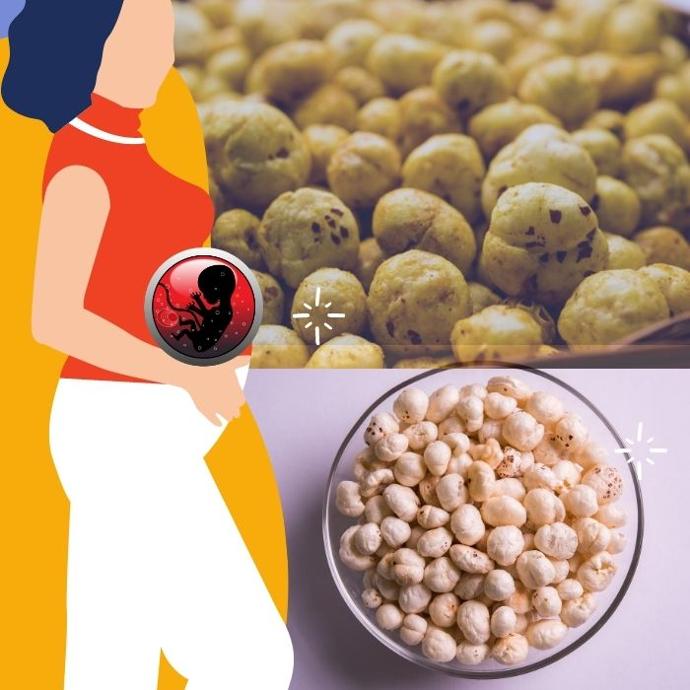 Makhana – A Wonder Nut for pregnant women
Makhana, also called Fox nut or Phool Makhana are found in wetlands of India, China, Japan, Korea. Gluten-free, low in calories, high in nutrition has proved Makhana as a wonder nut for pregnant women. Makhana is loaded with antioxidants, proteins, magnesium, potassium, phosphorous, and folate that is highly beneficial for women during the pregnancy period. It not only satiates the hunger pangs of pregnant women but also helps in ensuring to provide all the necessary vitamins during pregnancy.
Pregnancy
One of the most important and challenging times for a woman in her life is pregnancy. A woman's body goes though many physiological, hormonal and emotional changes. There are hormonal changes, weight gain etc. Pregnancy is divided in to three trimesters. It is also called Gestation.
A lot of care has to be taken when a woman becomes pregnant. Her body requires a good amount of calcium, folate, iron etc. Vitamins and Minerals helps maternal and foetal growth through the pregnancy.
Some women have deficiency of certain vitamins so they are prescribed to take supplements due to the deficiency. Diet becomes extremely critical to ensure healthy mother and foetal growth. Leafy vegetables, fruits, high protein, iron rich diet is recommended to women who are pregnant.
A few women develop allergies and gestation related diseases. Allergies can vary from women to women depending upon their tolerance towards certain food types. Women go through a lot bodily changes like swelling of breasts, tiredness, nausea, mood swings due to hormonal changes.
Makhana for a smooth Pregnancy
Pregnant women are required to have a well-balanced diet during their entire pregnancy. Having vitamin rich food becomes a must. Makhana is apt when it comes to providing essential vitamins to women.

Makhana being rich in folate, iron and low in calories, saturated fat helps in fighting a lot pregnancy woes. With pregnancy, women develop many gestation diseases like Diabetes, hypertension etc. Makhana being a miracle nut aids in combating all the pregnancy related diseases.

akhana is packed with calcium that helps in maintaining the bone density of women. It also helps in balancing the hormones during pregnancy. The Makhana seeds have isoquinoline as a component which helps in calming the blood vessels, thereby, controlling issues like high blood pressure.

Apart from taking care of the health of women, Makhana helps in better growth of the foetus. Makhana has high level of B vitamins, amino acids and antioxidants that are extremely important for both mothers-to-be and the foetus.

Being very rich with flavonoids, Makhana seeds and Makhana flakes help in dealing with inflammation.

Many women have difficulty in having a peaceful, sound sleep during pregnancy. Makhana also aids in better sleep patterns for pregnant women.

Though Makhana seeds and Makhana flakes have a positive effect on the stages of Pregnancy. However, in few women it has been noticed that they develop allergies and intolerance towards Makhana.

Pregnant women generally consume Makhana in different forms. Some consume Makhana seeds directly on a daily basis. Few women experiment with new recipes of Makhana like Makhana sabzi, Makhana smoothies etc.
Side effects of Makhana on Pregnant Women
Doctors and nutritionists generally recommend Pregnant women to include Makhana or Fox nuts in their diet chart. However, they also advise them on the quantity of Makhana to be consumed in a day. A few women tend to over eat Makhana as they are tasty and healthy. This could lead to various side effects that need to be checked.

It is recommended to consume Makhana in controlled quantity on a daily basis. As consuming too much of Makhana can lead to flatulence, constipation and bloating.

Eating excess of Makhana by women already suffering from Diabetes may result in further difficulty.

Many women have allergy towards Makhana seeds so one should stop consumption immediately once the side effects appear.
An expecting mother must consult their nutritionist and gynaecologist before regarding time and quantity of makhana consumption. This is because every pregnancy and every body is unique.
Ways Makhana can be consumed during Pregnancy
While so many things are written about the myriad benefits of makhana during pregnancy, still there can be women who are confused about how to make makhana a part their daily diet. There are in fact, a number of ways that a woman can do so, depending on her preference. Listed below are some of the ways that can make and consume makhana. Having them in different recipes and ways also removes the boredom of eating the same thing during pregnancy:
Roasted Makhana
Makhana or fox nut can be easily roasted in any utensil, non-stick frying pan, deep set pans and is also a much better substitute for different types of fried snacks. These delicious nuts can be easily roasted in butter of ghee and they do not take much time to roast. Also, once can roast and safely place them in air tight containers for future consumption. All you have to do is lightly roast them in a spoon of butter or ghee. One can also add some salt, chilli powder or any other seasoning for a nice flavour.
Makhana Kheer
Makhana has been traditionally been in use as an important ingredient in kheer. While some people add chopped makhana to kheer, others simply make makhana kheer. Normally, people add roasted and crushed makhana in the kheer as an add on just five minutes before they finish cooking kheer. Pregnant women to have makhana kheer as a dessert.
Makhana Laddoo
Makhana laddoo is also a great option for consuming makhana as a sweet. Many women in different parts of India prefer makhana laddoo and store them for future consumption.
Makhana provides multiple health benefits including both body as well as mind. It has been in use since traditional times in Asian countries, especially India. Having makhana will help you regulate your weight, keep blood pressure under control and so much more, so don't hesitate the next time you feel like eating it.