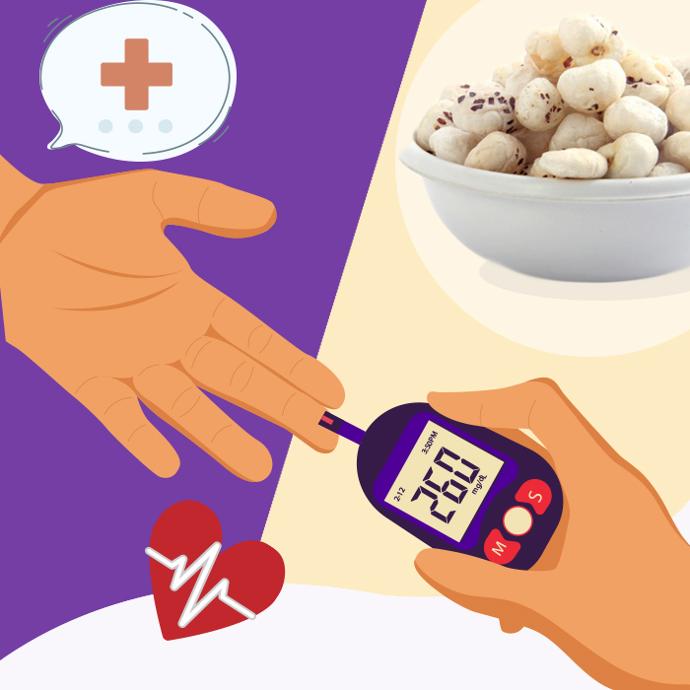 Being a non- cereal that is grown in the tropical lands or ponds, Makhana or Fox nuts have been recognised as the Super food globally. Economical, nutritional and easily available in India, Makhana has found a throng following of health conscious consumers in countries like China, Japan, South Korea, Nepal etc. With miraculous health benefits, Makhana is also known as the Elixir of life.
Makhana Benefits

Makhana seeds and flakes are packed with high proteins, carbohydrates, iron, potassium, magnesium and low sodium, saturated fats, glycaemic index which help in curing many serious diseases like diabetes, hypertension, obesity, strokes, sexual problems etc.

Makhana has an important place and is used not only in Ayurveda but also in Chinese medicines. Makhana are used in making medicines that are successful in treating lifestyle diseases. Low in calories, consumers are eating Makhana in differs forms like soups, pastries, sweet dish, snacks etc.

Predominantly cultivated in Asian countries, their demand has become high even in European and American countries as well. There is a low awareness in these markets about the benefits of Makhana or Fox nuts as compared to Asian countries.

Traditionally, Makhana were usually used by consumers in India for religious customs and festivals. However, over the last couple of decades, people have become aware about the goodness of Makhana in the treatment of high sugar.Highly recommended by doctors and dietitians for weight loss and other lifestyle diseases, consumers prefer Makhana over other expensive dry fruits and seeds.
DIABETES – A Serious illness
With the increase in the changing lifestyles, diets, stress, people across the world are getting prone to serious diseases like Diabetes. Diabetes can be very dangerous as it causes high blood sugar. Under such a medical condition, patients are not able to make enough insulin within the body.

Diabetes is no longer just a life threat to people in old age groups. Even children have been found to have diabetes owing to genetic reasons. Also, fast food culture has led to high intake of junk food and carbonated drinks that have added to the number of cases of diabetics in India and other countries. People have understood the life threatening effects of diabetes and are adopting active lifestyle with balanced nutrient rich diet.

Having high sugar can make one prone to other life threatening diseases like nerve damage, eye damage and also has an adverse effect on other organs.
Types of Diabetes
There are different types of diabetes. Some are genetic, some are lifestyle related.

Type I diabetes:This is a condition where there is no production of insulin in the body and the patient has to take artificial insulin.

Type 2 diabetes: In this condition, the body is not able to utilise the insulin effectively Type 2 diabetes is also known as a lifestyle diseases. Obesity is one of the reasons for Type 2 diabetes. Sedentary lifestyle is also a common reason of this type of diabetes.

There has been a rise in diabetes in India, specially in Urban cities. There has been an increase of 15-20% diabetes cases in urban areas and 5 to 8% in rural India.

Processed food, intake of fat has led to obesity which resulted to other diseases like strokes, diabetes, hypertension etc.
Makhana and Diabetes
Makhana is known to be a new super nutrition packed food, which helps in treating Diabetes. Having the goodness of potassium, magnesium, proteins, Makhanas have become the first choice for consumers.

Medical practitioners too recommend Makhanas to patients suffering from diabetes. Since it is low in sugar, glycaemic level, it highly recommended by dieticians to people who are wanting to reduce weight. the Makhanas are rich in good carbohydrates and proteins. Being low glycaemic foods, makhanas help manage your blood sugar levels.

Having high fibre, further has many benefits that help in proper functioning of organs. It also helps in working of the digestive system which helps in managing obesity. Consumed in right quantity, Makhanas can be a miraculous snack options for people with diabetes.

People suffering with diabetes have a lot of food restrictions like no sugar intake, rice, potatoes, high starch food etc. Makhanas come as a relief to a diabetic patient as it is not only low in calories but also high in taste.

Rich in antioxidants, it has become the preferred choice of millions across the globe. Being inexpensive and available in different flavours has led to a rise in western countries as well. People are slowly but surely getting aware of the uncountable benefits of Makhanas.

Patients are consuming makhana flakes and makhana seeds in different forms. Few consume it in raw form. Some eat the seeds directly. However, in India, people are trying out new recipes and using them in main course, desserts, snacks etc. Few examples are Makhana Parantha, gravy dishes, puddings, makhana kheer, makhana soup etc.

Some patients make roasted makhana at home by cooking makhana in a fry pan with a little bit of ghee and adding salt to taste. This is an easy and quick way to have tasty snacks that are not that expensive also.

China and Japan, diabetic patients who are not allowed to have desserts use makhana in pastries with artificial sweeteners to satiate their taste buds.

Consuming Makhana in moderation is also important. One needs to control the quantity of Makhanas consumed in a day as it may have adverse effects too. The side effects of having too much makhana can be constipation, bloating etc.

If you are a diabetic, it is best to talk to your healthcare provider before you incorporate them in your diabetic diet plan.
In spite of so many benefits of Makhana, there is still a lot of ignorance related to the advantages of consuming Makhana in India and especially Western countries. People in Europe and U.S. still prefer fresh fruits and vegetables with lean meat to control diabetes. They still have not become aware about the goodness of Makhana. Retailers in India understand the lack of market in west and are concentrating more in Asian countries where people have a huge demand for Makhanas and Makhana seeds.