Different Names of Makhana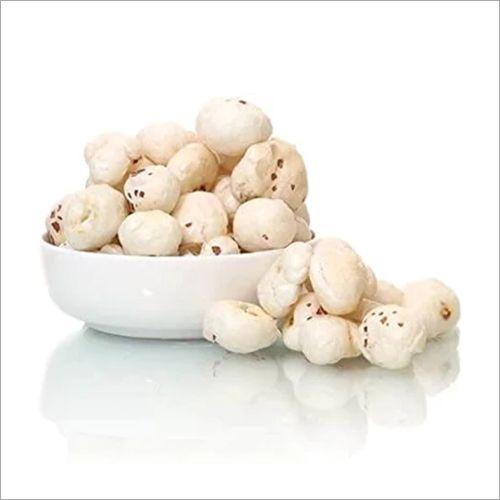 Makhana is not only multi-purpose but also it is interesting that makhana or lotus seeds have a variety of names in different languages. India is a multi-lingual and multi-cultural country with multiple languages and dialects. It is said that in India, the dialect and culture changes every hundred kilometres. Needless to say that Makhana, as it is called it Hindi, is known by different names in different states and regions across India. Globally also, while it is known as fox nut or gorgon nut, but different countries have different name in their local languages.
| | |
| --- | --- |
| Language | Name |
| English | Fox nut, Gorgon nut, Lotus Seeds, Prickly water lily |
| Hindi | Makhana |
| Punjabi | Kamala dā bīja |
| Telugu | Melluni padmamu |
| Marathi | कमळ बियाणे |
| Manipuri | Thangjing |
| Japanese | Hasu no mi |
| Assamese | Nikori |
| Korean | Ga-si-yeon |
| Spanish | Semilla de loto |
| Bengali | Padma bīja |
| Chinese | Qian Shi |
The phool makhana or fox nut plant has large round leaves and bears bright purple flowers. The plant is covered with small thorns with the large leaves of the plant having green upper surface and purple shaded lower surface. The nutritious plant bears fruits that are approximately the size of a small orange. Each fruit contains up to ten seeds which are of pea size.
Makhana – Usages

Makhana is used for various traditional ceremonies in India, offered to deities during festivals, pooja. It been a part of all major rituals and also forms a part of the panch amrit that is served as prasad offering to the deities.

Known for miraculous benefits, Makhana has been recommended by dieticians, nutritionists specially in Urban India.

Makhana is used for making tasty dishes, curries and sweet dishes like Makhana Kheer, Aloo Makhana, Makhana Paratha, Makhana.

Makhana is also a very popular snack option cooked at home by using Ghee or oil and adding salt.

Makhana is also used in Ayurvedic Medicines.

Makhana is prescribed to Pregnant women as it is packed with all the goodness of vitamins.

Traditional Chinese Medicines also make use of use Makhana or fox nut as an ingredient to cure and manage different ailments.

In China & Japan, people use Makhana seeds and Makhana flakes to make pastries and soups.
Interaction with different medicinal systems and supplements

One of the foremost reasons of the global popularity of makhana is that is it very beneficial and interacts positively with most medicinal systems and supplements.

It is widely used in Ayurveda and Traditional Chinese Medicine. Also makhana or lotus seeds do not react with homeopathic medicine.

It interacts well with various health supplements including omega 3 fatty acids and most dietary supplements.
Makhana – The preference of India
Bihar is the largest producer of the super food. Cultivation of Makhana in Bihar has seen an exponential growth owing to a huge demand for Makhana in different states of the country. In Bihar, districts like Darbhanga, Samastipur, Madhubani, Champaran, Saharsa, Katihar alone are responsible for 90% of the world production of Makhana.

The demand is not just restricted to the domestic market. Globally, Makhana has become the first choice for the health conscious population of the world.

The demand is not just restricted to the domestic market. Globally, Makhana has become the first choice for the health conscious population of the world.

In India, Aquaculture has become popular as it promotes cultivation of Makhana and Fish. This is a sustainable and economical option for farmers and have positively impacted the livelihood of thousands of farmers.

Farmers in India using Pond farming have to face many challenges as it is a more complicated way of farming. Detrimental to health of farmers, researchers are looking for a better farming solution. Therefore field system of makhana cultivation is also now being widely used as it is a scalable form of cultivating makhana. Also, it does not impact the health of the farmers and is easier to cultivate and harvest.

With the ever growing demand of makhana across all Indian States a lot of large companies and multi nationals have also jumped on the makhana bandwagon and are manufacturing and distributing makhana in different forms and packaging. Now a days makhana is also being organically grown and are easily available in flakes and seeds, Makhana are organic and inorganic.

Snacks and ready to eat industry has seen a preference of Makhana over rest of the snacks options like chips, wafers, namkeen etc. Even dry fruits have taken a back seat to Makhana as it is more economical.