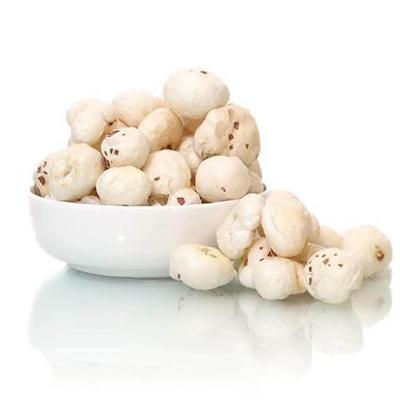 Makhana is slowly becoming one the most demanded aquatic food crop due to its medicinal , nutritional values. Mostly cultivated in Eastern Indo-Gangetic Plains, Makhana helps in providing a good source of income to a large number of farmers, wholesalers, traders, exporters, and manufacturers.
With the steep increase in the demand of Makhana in International markets, there has been a pressure on farmers, wholesalers and exporters to have a smooth supply chain to ensure regular and quick supply of the products. Over the past few years, there has been significant progress in the use of latest cultivation methods by farmers to meet to the growing needs of domestic and global arenas.
A number of obstacles like traditional use of cultivations of farmers, lack of storage spaces, less availability of credit, less use of mechanised methods have added to the issues of supply chain. Once these obstacles are overcome, it is estimated that makhana production and supply chain can support the livelihood of more than 2 million resource poor farmers. For the sustainability of farmers and operational efficiency, it is therefore vital to have a robust supply chain that provides products at minimum cost and least time.
Global Demand Of Makhana
There has been an exponential increase in the consumption of Makhana globally. Its giving a hard competition to other power snacks like dry fruits. Often seen as a super food, Makhana has created its niche in many countries owing to its many uses.

The global Makhana market size is estimated at USD 40 million by end of 2020. The demand spurt in makhana nuts can be attributed to its health and nutritional values. Packed with amino acids, Makhana is known to be a wonder snack. Makhana has become one of the top preferences of consumers in Snacks category owing to its taste and various other benefits.

Apart from being tasty, it helps in treating diabetes, blood pressure, reduce weight and limited inflammation. Widely exported to Europe, U.S.A., China, Japan, Singapore, and Thailand its medicinal usage. Asia Pacific has been the market leader in Makhana with a huge pie of 85.2 % in 2019. The reasons for its success has been Makhana seeds cultivation taking place in countries like India and China thereby, meeting the customer needs with a seamless supply chain. These countries have adopted Mechanisation of Makhana and have a strong Post-harvest management of Makhana.

There are two types of Makhana that have been in demand in International shores i.e. Organic and Inorganic Makhana. Ever since, consumers have started eating Makhana, their consumption pattern of dry fruits have taken a hit.
Supply Of Makhana
Both domestic and international markets are ensuring efficient supply chain of Makhana so that it helps in reaching the consumers in time. Supply of Makhana depends heavily on the cultivation of Makhana which in turn is dependent on the availability of Makhana seeds for cultivation.
The Makhana seeds begin in the month of March or April and its availability is made till November. The seeds cannot be stored than over a month, the wholesalers make them in the pops so that they can be stored for a longer duration. Hoarding of Pop Makhana can lead to hiked prices in ff season. In wholesale markets, the prices of Pop Makhana is determined by the supply and demand. Lightweight pops are considered better and fetch better prices in the market.
Procurement of Makhana is done in two ways i.e. Makhana Seeds or Makhana Pops. In few places, the wholesalers buy makhana pops from processors directly. But in some regions, wholesalers directly buy the Makhana seeds and get them processed themselves. In few markets both seeds and Pops are traded. During the high demand, the wholesaler reach out to the farmers and processors directly and procure Makhana seeds and Pops by loading material in small trucks. Gunny bags are used to stock up the entire Makhana pops and seeds in different jute bags of 7 kgs to 12 kgs depending upon the weight and trader demand.
Payment System
The payments of Makhana of Wholesalers to farmers usually is mutually decided and is paid by cash. The wholesalers also provide credit loans to the farmers as well. This leads to the farmers being forced to sell to the same wholesalers due to credit taken. Wholesalers pay once they receive the produce. At times, the wholesalers are not able to make immediate payments due to non-availability of cash. In this scenario, the farmers reach out to the wholesalers.
Once the wholesalers receive the produce from farmers, they transport the Makhana to the traders through small trucks or commercial vehicles. If the wholesalers make immediate payments, farmers help them in transporting the produce directly to trading locations themselves. Apart from wholesalers, farmers do not have the capabilities to sell their produce to anyone else.
Threats
The supply chain is impacted if the farmers are not able to cultivate Makhana in time. Owing to factors like dependence on climatic conditions, lack of proper own storage system, lack of proper distribution system, farmers are more depended on wholesalers for selling their produce. This leads to losses in terms of wastage, time, labour cost etc.
Makhana Distribution system in Organised Retail Markets
The distribution system has been valued at a whopping figures of USD 24 million by the end of 2020. This leads to it having a huge pie of 68% in the international markets of Makhana.
Makhana are available to the consumers through brick and mortar stores like Hyper markets, super markets, retail stores, grocery stores etc. This gives consumers a platform to choose their brands, flavours before deciding what makhana to buy. The different Makhana options has given a choice to consumers for buying.
Not just Brick and Mortar, online sales of Makhana has also seen an exponential growth. With the consumers using e commerce sites, they are buying Makhana online. The online sites are expected to grown with CAGR of 15% from 2020 to 2026. Offering various discounts, bulk buying options, convenience of buying from home itself has led to rise in number of E commerce competitors selling Makhana.
Makhana Packing for Retail Marketing :
In Retail system, packing has a big role to play. It's used not just for preservation purposes but also to attract consumers through attractive packaging. With the increase in Makhana brands, manufactures are fighting for consumers interest. Generally, Makhanas are packed in moisture proof packaging for longevity. Usually, the entire process of grading, filling in bags, weighing, packing are done manually. Vying for the attention of consumers in online or offline scenario is top concerns of all manufacturers.